Burnt orange is the new kid on the block and taking the wedding world by storm!
Even just a few years ago if you told someone you were having an orange wedding, the looks you would get!
Burnt orange when done right is one of the best wedding colors for an autumn wedding.
What I love about burnt orange is you can pair it with creams, and softer oranges for a romantic look.
Or go all out with an autumnal mixed color palette with dark green, mustard, and deep berry reds.
What colors go with burnt orange for a wedding?
Depending on your wedding style you have lots of color choices to pair with burnt orange. You can use a complementary color like blue, a deep dark blue works well for a moody palette, a dusty blue for a lighter feel, or a vibrant stand-out palette with a light bright blue.
Here are some of my favorite color schemes for a burnt orange wedding theme in 2023.
1. Burnt orange, terracotta, and white
The terracotta and white pair so well with burnt orange and give a fresher feel. You could add some pops of black for a modern feel.
Burnt orange is always great in autumn but with the creams this palette with work well in all months even summer.
Styling Tips
This palette lends itself to a modern scandi boho style wedding. Lots of natural textures and materials. Use Terracotta, clay, and other natural stones. I would use dried white and cream flowers and grasses.
Think bohemian desert vibes. Dried grasses, texture, and mixed creams.
2. Autumn mixed color scheme
Burnt orange, mustard yellow, dark green, and deep berry reds. The perfect autumn or winter color palette. I feel like it is celebrating all the beautiful autumn colors that come out in the fall.
Styling Tips
I would go bold with dark green tablecloths, and velvet for that extra luxury. Then have the burnt orange and yellow come through in the flowers and decor. Copper would make a great accent color for extra decor pieces and cutlery.
3. Burnt orange and Teal
A rich combination made in autumn heaven. Both colors are bold and it might seem scary to pair them but when done right it is stunning.
Styling tips
I would use copper accents to add even more richness. I would use teal in fabrics and decor and then burnt orange mainly in the flowers. Then finish it off with pops of copper with cutlery, votives, and even charger plates.
4. Burnt orange, rust, and black
Now, this color palette is a bit of me! It has to be matt black or charcoal black. Think very urban, edgy making a bold statement.
Styling Tips
I would go with mainly matt black, for everything. Use it for tablecloths, crockery, and cutlery but layer and add texture where needed. The small pops of rust and burnt orange in the flowers and finishing touches.
5. Burnt orange, dusty blue, and copper
I love dusty blue and apart from navy blue, it is the best blue to pair with burnt orange.
Styling Tips
I would have rustic wooden tables and dusty blue chiffon runners. Then burnt orange in the flowers and lots of copper finishing touches.
6. Burnt orange, rust, and tan
For me, I am thinking of very earthy, natural vibes with these colors.
Styling tips
Now I actually wouldn't go boho with this color palette. I think you can pull off a very high natural feel here. The base color is tan and used throughout, with black as an accent but used minimal. Keep everything minimal and carefully curated. Dried flowers in a mix of all colors, textured rust decor, and candle holders.
7. Burnt orange and olive green
Using burnt orange is a unique way to use the ever so popular sage green. Sage green is usually also a summer or spring color so it is a good way to make it more suited to autumn or winter.
Styling Tips
As always I would mix the shades used but I would really focus on this here. Adding in darker shaded of green and lighter shades of orange. You can have lots of fun here and use more light or dark depending on the season.
8. Burgundy and burnt orange
Love these two together and they work so well with lots of different colors depending on the style you want to achieve. Add in some soft neutral whites and cream to soften the palette or go even bolder with emerald green.
9. Burnt orange and sage green
Sage green was definitely the color of 2022 and I see it being just as popular in 2023 and beyond. It is a lovely grey-green color. It pairs perfectly with burnt orange and rich orange for a moody color palette.
Styling Tips
I would do burnt and dark orange in the fabrics and flowers, lighter soft greenery, and then some pops of sage green in the candles, maybe glassware and stationery.
10. All the oranges
Why not just go all out and have all the rich, deep, and dark sunset oranges you can? The beauty of this palette is you can go lighter or darker depending on the style or season of the wedding.
11. burnt orange and pink
There is just something fun about ink and orange together. If yu are looking for a fun, colorful palette for a bright and bold wedding, this is for you!
12. Burnt orange and emerald green
A match made in heaven! The two hottest autumn wedding colors mixed into one scrumptious autumn color palette.
Love emerald green? Head here for the best emerald green color palette ideas.
13. Deep dark reds with burnt orange
This one is giving me all the fallen autumn leave vibes! A melting pot of all he beautiful colors that come to mind when you think of fall.
Burnt orange wedding ideas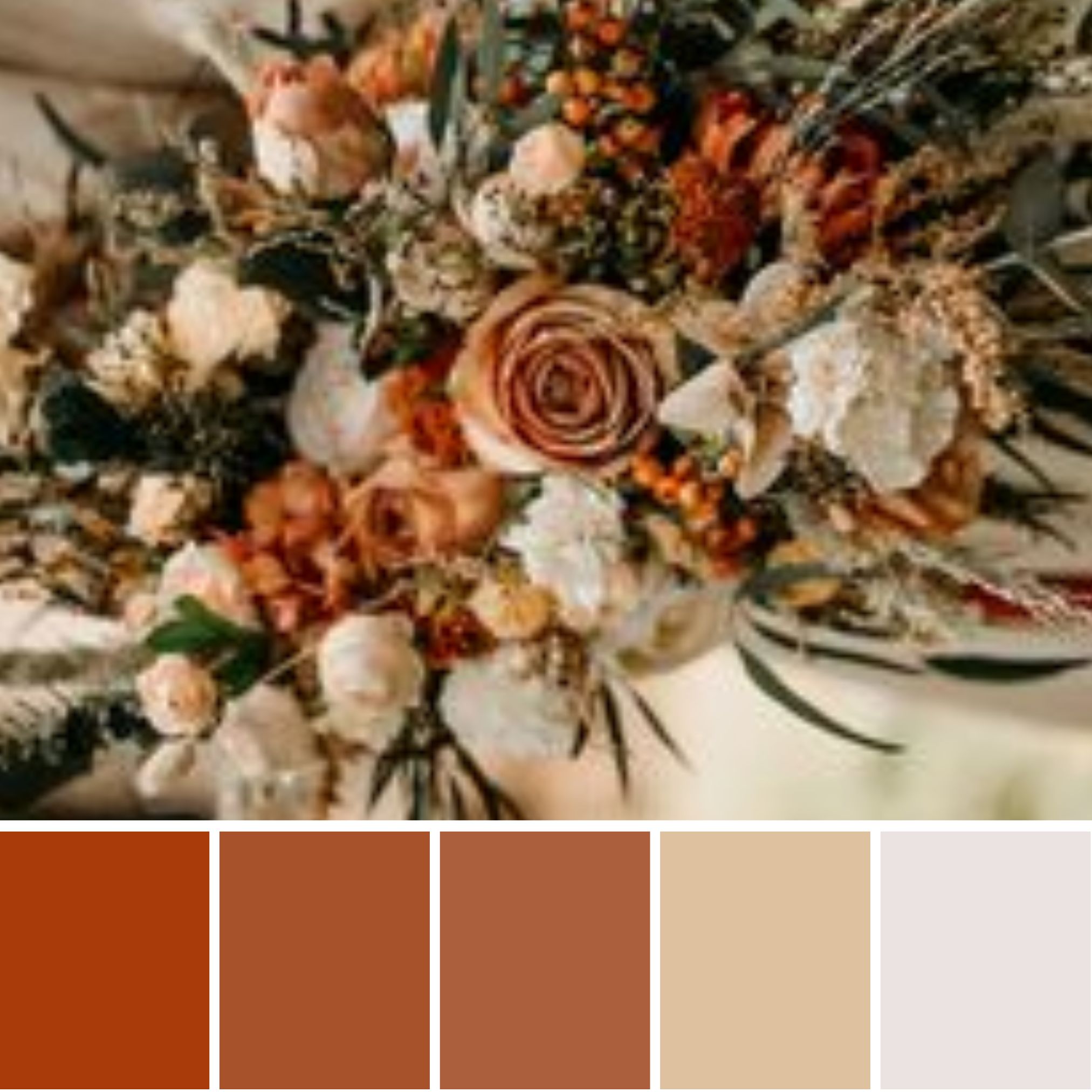 The best burnt orange wedding color schemes for a rich romantic feel
About
Services
Portfolio
Blog
Contact
Luxury Design and Styling for Weddings, events and brands
Download my free cake area styling guide.
Download now
GRAB YOUR CHECKLIST
GRAB YOUR MOODBORAD
Last Updated:
written by: 
Zoey Louise
Jan 26, 2023